Disclaimer: I received an ARC for Netgalley. This did not have any impact on my opinion of the book. Other than to be grateful to the publisher (Random House Children's) for giving me the opportunity to read this book. The Fire Wish is released on July 22, 2014.
Be careful what you wish for indeed.
I have been wanting a jinni (or genie for all you Aladdin aficionados) YA book for years. Finally, 2014 seemed like it was the year for jinnis with this book and a couple of other jinn books being released.
Which is just surprising how much it sucks.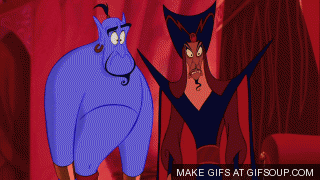 Yeah, I know a genie book that sucked.
Actually, this book reminded me of Cinderella's Dress fabulous plot potential but horrid execution.
This is once again a book that is said to be about something but is really about nothing. Except bad insta love. And she patchwork flashbacks to give an attempt of a plot in the last half.
It doesn't work, kids.
Let's talk about genies for a minute before this review continues. Genies or jinnis as they're called by non-Disney folks, have a relatively vague mythology (to westerners) that is really plum for YA picking. Most people's knowledge of them really consist of the Robin Williams' genie character. Which with his 90′s pop culture jokes is probably not the best role model.
Like for instance, the actual Aladdin story is set in China not Arabia. And it really doesn't have that good of a moral lesson to it like in the movie (Aladdin keeps the genie enslaved for the rest of eternity).
The point is, genies and YA pretty blank slate. So, how can you fuck up on them.
Well, the way you fuck up on any good premises…
Nothing.
Just nothing.
Well, that's what that book did. And Cinderella's Dress too, now that I think about. Add some lackluster characters and insta love than those high hopes turn into.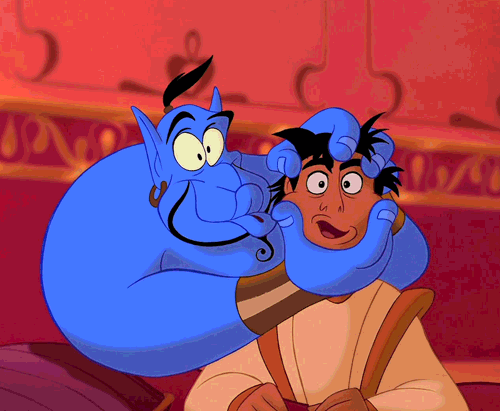 Oh, when will this be over?
I wish I could say something nice about the world-building, but nope nothing here. Nothing about these jinnis to really distinguish them as jinnis. I guess the wishing was sort of fleshed out, but not that much.
Just like the characters and romances were barely fleshed out. The princess character, Zayele, was more or less a brat who after one kiss is in love and has found home. Forget about the place she lived most of her life.
And then there's the jinni character, Najwa.
Gah…
Boring.
Bland.
Stupid.
To be honest, she was a little bit more bearable than Zayele.
And the only reason she was better was that she wasn't so outright selfish.
Instead, she just mooned over her object in insta love.
Maybe a part of my problem with Fire Wish was it had that tone of YA that is more middle gradish than YA, but not good middle gradish (note to self, I need to find a better name for this sort of bad book it's NOT fair for middle grade-ish books). It just felt like things were fluffed over just so that the author could be done with telling the story.
The problem was the story was really never told. Other than the last thirty minutes. Sheer boredom.
The characters and plot just weren't fleshed out.
And I was bored.
So, bored.
How can you make genies boring?
They're right. Be careful what you wish for. If you a genie YA book, be sure you wish it's for a good one.
Overall Rating: D for effort.